Rebranding strategies can transform your business and make it better. However, small to medium level business owners don't usually focus even on branding when they start a business.
On the other hand, another group of business owners gives high priority to brand development, making them thrive in the market. Still, even such business owners sometimes focus on rebranding upon changes to their current business plan.
Since we discuss online businesses here, digital rebranding is our prime subject. You may have tried everything, but you couldn't achieve success. And that is the right time to think of rebranding and introduce yourself to the market as a brand new product or service.
You may want to expand your successful business and reach the next level. Rebranding can be the process that could make it happen.
Business rebranding can happen in various forms; for example, you may have a company website, and it is on Google's first search page. And, now you have plans to develop a brand identity on social media with the help of a social media marketing agency. Anything is possible if you choose the right rebranding strategies, but you may need professional assistance for it.
Why Should You Rebrand?: Rebranding costs money, but it is a long-term investment. However, you may want to know—why is it necessary for my business?
Small and medium business owners are not the only groups of business owners that necessarily require this upgrade. Many Big Brands, such as Uber to Dunkin' Donuts, have applied this strategy.
You can change your entire online presence, including your company website, logo, and even name for an advancement. However, you should have a clear target and a "VALID" reason for it.
Having a clear picture in mind on why you would rebrand is equally important as choosing the right rebranding strategies. If not, failures explained in this post can happen source
Below is a list of "VALID" reasons: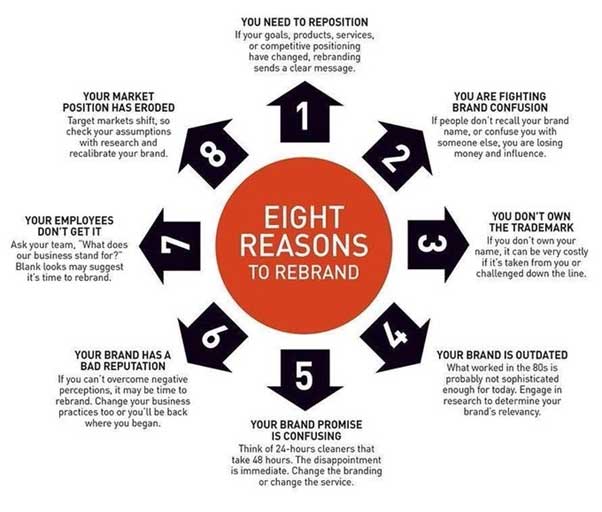 Or, perhaps you are looking for more attention. Every market niche upgrades, changes, and gets invaded by new businesses. Your position in it won't be a guarantee, unless you are a big brand, such as Coca Cola or Microsoft.
Rebranding Strategies: Digital rebranding can be partial or total rebranding. No matter your requirement, partial or total rebranding for your online business, you can't and shouldn't do it alone. You need the hands of a full-service SEO company that can make it happen by looking after its all aspects for you.
If your business is doing well, but you look for expansions, then partial rebranding is a sound choice. It is more of a refresh than a complete change of identity.
However, think twice when you plan for a total rebranding for your already-succeeded business. The more you have developed a solid name in the market/niche, the more you would lose from a rebranding.
A partial rebranding can do wonders for you.
McDonald's is the best example to show the power of partial rebranding. Why did McDonald's, the world's biggest fast-food restaurant chain, needed it? The case of McDonald's proves to us a golden theory, which is that digital rebranding is highly beneficial even for the world's big brands.
McDonald's is a fast-food restaurant chain, but people now lean towards healthier lifestyles and foods. The restaurant chain faced a challenging situation as their customers moved away from unhealthy fast-foods to healthier food products.
They implemented one of the most effective rebranding strategies to overcome the challenge. They added healthier and healthier items to their menus, and a promotional campaign passed the message across their previous customers. Online and social media marketing campaigns passed their NEW message to customers faster than their predictions.
The new approach again made them the industry leader. McDonald's didn't change their name or shut down their company. They implemented a solid rebranding strategy according to customers' updated demands. Refer to this post to know more about McDonald's rebranding story
Total Rebranding: Partial rebranding worked for McDonald's, but it may not be the best choice for another company. Market competition, emerging new products/services, the reputation of your brand, and your ultimate target determine what suits you the most, partial or rebranding.
Nokia was the leader of mobile phones back in the 90s and early 21st century. In 1998, Nokia had a 30% market share in the mobile phone sector.
Things got changed with the emergence of the Smartphone concept. The demand for button-press phones faded away sooner than anybody thought. Samsung and Apple dominate the mobile phone (smartphone) markets now.
In 2011 and 2012, Nokia also tried their best to regain the lost market, but they failed. Partial rebranding they implemented wasn't sufficient to overtake Samsung and Apple.
The story of Apple was the opposite.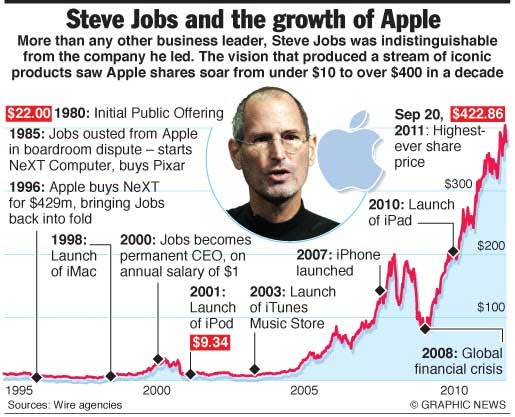 Who would believe that Apple was nearly bankrupt, but it was rebranding under Steve Jobs saved the company? Steve Jobs changed everything from product specifications to advertising (almost total rebranding.)
For all the business owners who wish to thrive through rebranding strategies, The Rise Of Apple is the best case study to follow.
How to Rebrand Your Company?: Well, this is not a one-day or one-step process. The necessary change, which is either partial or total rebranding, also makes things more challenging.
Is rebranding difficult? It is not a piece of cake, but many thousands of business owners across the globe have won it. Think of the following crucial factors in detail. Rebranding benefits are the icing on the cake. If you do it right, then you can enjoy those long-term benefits.
1) Reestablish your brand's market & audience.
2) Redefine your company's mission, vision, and values.
3) Rename your company (only if necessary.)
4) Modify your brand's slogan.
5) Rebuild your brand identity.
Depending on the branding strategy you plan to implement, total or partial rebranding, you will have to make one or more of the above necessary changes accordingly.
You may have a series of high-quality products and services, but you haven't implemented the right digital marketing strategy. Or, you only promote your products/services via old days' marketing methods.
Searching for a new market/niche/audience and rebuilding your brand identity can't happen via the old day's marketing strategies. If you are planning to rebuild your brand identity this year, make sure you know these digital marketing trends.
Social Media Branding: Millions of people use various social media platforms today. Why not initiate rebranding on those platforms? Below is the procedure for it.
Cover Your Basics: You may have already promoted your company on social media or not at all. No matter the case, social media rebranding should start with the basics. Some sort of consistency is vital when you rebrand on social media. However, you can customize your approach according to various platforms.
When considering the basics, such as the company logo and color palette, having a common identity that helps customers recognize your brand is highly beneficial.
Search for strategies that make you engage with social media users; for example, prepare a schedule for social media postings.
A quick tip: perform a social media audit across all your accounts before anything. 
Extending Visual Branding: Colorful pictures, videos, and even infographics are eye-catchers. Whether it's an Instagram post or a Facebook video, it has to have the hints of your basics.
The shades and even the fonts you use for videos reflect your individuality. Ongoing marketing is crucial during the early stages of digital rebranding. Posting one product video per month won't make a big difference.
To get visitors to visit your social media pages, you should greet them with something new, attractive, and informative often. "How can I find time for all these;" is this your biggest concern? You can always outsource the task to a digital marketing agency, then.
Using Compelling Content: Social media rebranding isn't only videos and images. New and engaging content is one of the best rebranding strategies. Adding fresh content applies to your company website, too.
However, you should understand that the right content for social media platforms differs from one platform to another. Content on your Linkedin can't be the content that you would use for Instagram.
Some small and medium business owners don't realize the importance of this content strategy, and which is why their first digital rebranding failed. Go through your social media profiles again and check for content issues and lacks.
Digital rebranding means you are developing your own identity in a highly competitive market. For it to happen, even the content you develop should be unique and attractive.
Make Use Of Social Media: What does this mean? Well, social media is not just Facebook. It is not only YouTube, either.
Social media rebranding refers to you promoting your company again with your full potential. Why not make use of all the available social media platforms for it? Whether you sell designer shoes or laptops, various client groups reach you through different social media platforms.
Build your brand on all those social media platforms for all the client groups, not only for one client group!
The Cost of Rebranding:
The overall cost of rebranding highly depends on the rebranding strategies and your requirements. For a particular company, a total rebranding would cost more than a partial rebranding.
Do you have high-quality products and services? If yes, then choosing the right, updated digital marketing strategies can do wonders. Digital rebranding is a first-class choice as customers prefer online product purchasing now.
You may not have big money for rebranding, which is 100% fine. The overall cost of rebranding is perhaps only the cost of hiring a full-service digital marketing company. They can promote you and your products/services through the latest marketing strategies, such as Google Maps Marketing.
Closing Thoughts: You may be going through a total business failure, making you focus on rebranding strategies. Failing one time isn't the end of the world. However, you should learn from the mistakes and plan and work for the best.
Failing to upgrade products, services, and marketing strategies according to the ever-changing trends is a big mistake. You should avoid this disastrous mistake at all costs.
Digital rebranding can transform your business and make you a leader in the market. In case you need experts' knowledge and assistance for this long-term upgrade, we can help you. Contact us today!